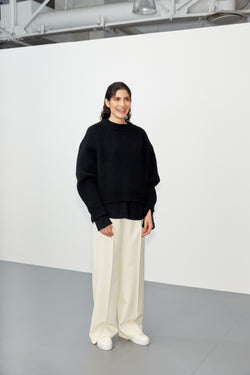 FUNCTIONAL HANDKNIT PATTERN DIGITAL (NO)
Strikk din egen Functional genser i nydelig pelsull fra Hillesvåg Ullvarefabrikk. 

NB! Dette er kun strikkeoppskrift og ikke garnpakke! 
Du mottar etter gjennomført kjøp:
Strikkeoppskrift på norsk - digital fil sendt på epost (normalt ila 1-2 arbeidsdager) 
Det er ikke retur på digital fil sendt
Skriv inn den eposten du ønsker få mottatt oppskriften i ordren
Oppskriften viser størrelser XS (S) M (L). Overvidde er 100 (104) 108 (112) cm. 
Pinneforslag: Rundpinne 3 til selve genseren og 2,5 til rib i nederste kant på erme, front og bak, samt halsringning. (Rundpinne 3mm 80cm og rundpinne 40cm. Strømpepinner 3mm og 2,5mm.) 
Det er en oppskrift for alle størrelser. 

Ta kontakt via spørreskjema dersom du skulle lure på noe. God strikk! 
This is a hand knit pattern in Norwegian. Contact for more information regarding English translation. 
Free shipping - We offer free shipping in Norway on orders above 1500 NOK. The offer excludes Svalbard. 
UPS - We normally ship with UPS express with home delivery. You will recieve a tracking number when the product is packed and ready for shipment. 
Estimated delivery - Worldwide estimated delivery is 2-5 days. Please note that when purchasing a made to order product the delivery time will increase with 1-3 weeks of producing the garments before shipping.
You will receive an email with tracking information once the product is ready to ship from our factory or warehouse. 
Taxes and duties - Local charges (sales tax, customs duty) may occur, depending on your region and local customs duties. These charges are at the customers own expense.
For further questions take a look at our FAQ site or contact us here