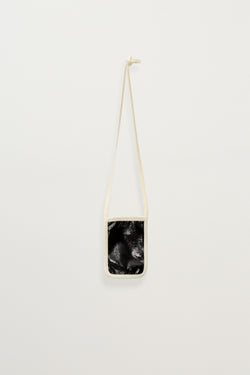 REVIVE MINI BAG
Upcycled bag made from upcycled rest material from production. Made from black leather and wool ribbons. The photo is showing patent leather, but we also do normal leather. On all Fretex X ESP Upcycle product we contact the costumer to approve Upcycle material and delivery time before making. We make by order and according to what we have available at the time of black leather upcycle material. 
Delivery 1-3 weeks. 
Upcycled and locally produced product is in collaboration with Fretex. Fretex is a company specialized in sorting secondhand garments. We collect the material at their sorting facility in Oslo and produce at our factory near by in biking distance. 

Free shipping - We offer free shipping in Norway on orders above 1500 NOK. The offer excludes Svalbard. 
UPS - We normally ship with UPS express with home delivery. You will recieve a tracking number when the product is packed and ready for shipment. 
Estimated delivery - Worldwide estimated delivery is 2-5 days. Please note that when purchasing a made to order product the delivery time will increase with 1-3 weeks of producing the garments before shipping.
You will receive an email with tracking information once the product is ready to ship from our factory or warehouse. 
Taxes and duties - Local charges (sales tax, customs duty) may occur, depending on your region and local customs duties. These charges are at the customers own expense.
For further questions take a look at our FAQ site or contact us here